BMW Builds its 5 Millionth Vehicle in the US
For more than 25 years, BMW's Spartanburg factory has been operational with the series production of the 3 series beginning in the spring of 1995. The X joined four years later after the production of Z3 started at the end of 1995. It was replaced in 1998 by the Z4 and nine years later, to X6. 2008 marks the years the last car was assembled at the factory. This kicked off the production of the 'X' brand. In 2010, X3 was made, followed by X4 four years later. X7 was produced in 2018.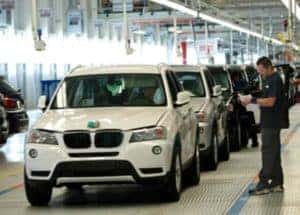 Fast forward to the fast-paced 2020, BMW USA is proudly celebrating the five millionth vehicle produced by the Spartanburg factory team. The car is an X5 M Competition finished in Toronto Red Metallic riding on two-tone 21/22-inch and with a Silverstone Full Merino Leather interior. The event was held on June 4th when the BMX X5 M Competition was unveiled. This was a moment of history as journalists took pictures and speeches made by officials. Instead of being bought at a high price as most people would expect, the expensive high-end vehicle will remain at the factory as part of a historic collection. The decision to keep the car was made to mark a memorable moment. It will be kept safely together with the first-ever vehicle to be produced in the factory – a white BMW 318i.
The Spartanburg factory is currently producing the X model vehicles except for two models- the front-wheel-drive-based X1 and X2 SUVs. The factory, which was started in the early 90s, is one of the most ambitious projects ever established by BMW, and has been a significant producer of some of the world's most impressive SUVs over the years. It is an entrepreneurial move that has proved extremely valuable in the long run. Over 50 percent of vehicles sold in the United States by BMW are produced locally. Additionally, with a broad customer base on a global level, 70 percent of its production was exported between 2010 and 2018. It has also increased its footprint six times to more than seven million square feet and offers employment to more than 11,000 people.
There are speculations of exciting new models soon. With people getting excited about a possibility of an X8 hitting the assembly line, It will be interesting to see whether it is the Spartanburg factory that will build the new flagship SUV in BMW's ever growing lineup. There are rumors of two versions being produced – X8 M and X8 M45E. Reports say that standalone SUV swill be produced as opposed to the X7-based derivative and may hit the market within the next or two years.
Over time, you'll notice how the giant company has managed to increase its production while reducing its production period. Looking at how much it took for the company to produce one million vehicles to 5 million, you can easily notice an improvement in production. Going from 1 million to two million took six years, whereas going to 4 million from three took a little over 1½ years.
1 Millionth BMW – February 28th, 2006 – Z4 M Roadster
.15 Millionth BMW – September 8th, 2009 – BMW X6 xDrive35i
2 Millionth BMW – January 12th, 2012 – BMW X3 xDrive35i
2.5 Millionth BMW – September 17, 2013 – BMW X5 xDrive50i
3 Millionth BMW – March 24th, 2015 – BMW X5 M
3.5 Millionth BMW – May 18th, 2016 – BMW X4 xDrive20i
4 Millionth BMW – September 8th, 2017 – BMW X3 xDrive M40i
4.5 Millionth BMW – March 7th, 2019 – BMW X7 xDrive40
5 Millionth BMW – June 4th, 2020 – BMW X5 M Competition
Many people congratulated the teams involved with Gov. Henry McMaster, saying that BMW's presence has made a positive impact on the state's economy. He added that the giant company had become an integral part of North Carolina and that citizens should share in the pride. The CEO of BMW manufacturing, Knudt Flor, said that they were proud to call North Carolina home. He added that the achievement was a symbol of the commitment and effort of their associates and supplier base.