Chevy Blazer vs Chevy Trailblazer – What's the difference?
Chevy, which is one of the world's most prestigious automakers, has produced some of the most advanced automobiles in the past century. Sedans, SUVs and trucks are all on the brand's menu. The Chevy Blazer and Trailblazer have been in production for many years, and these vehicle's are fairly advanced in their own rights. On the other hand, there are many individuals who tend to confuse these advanced SUVs. There is definitely a different among the two, which is why you should keep reading.
Contrasts and Comparisons
The Chevy Blazer starts off as a mid-size SUV while the Trailblazer is more so considered as a compact SUV. The Blazer is designed more so for roadway performance while the Trailblazer provides some off-road capability. Each SUV is versatile in their daily functions, and their names are very similar. Thanks to having similar names, many people tend to think that they are one in the same, which is not true. Chevy has equipped these SUVs with tech advancements as well as diverse amenities. Buyers can also choose from a number of available trims.
Highlighting The Chevy Blazer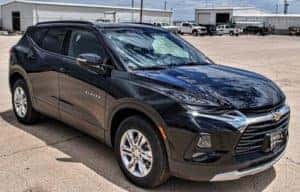 The Chevy Blazer can seat five individuals in its cabin, which yields as much as 64.2 cubic-feet of cargo space. Depending on your trim of choice, this vehicle will host leather-trimmed seats or cloth seats. The L, 1LT, 2LT, 3LT, Premier and RS are the available trims. The vehicle's cabin is very flexible thanks to its 60/40 split-fold rear seats. The cargo partition is flexible, and there's a horizontal cargo net. The adjustable cargo fence will help to keep your belongings place while commuting.
The Blazer will be offered with one of three powertrains, including a 2.0-liter turbocharged engine. This four-cylinder engine will produce 227 horsepower and 258 pound-feet of torque. The available 3.6-liter V6 delivers 308 horsepower and 270 pound-feet while providing 27 mph on the highway. There's also a 193-horsepower engine.
The Chevy Blazer will host tech advancements to engage your commute. Your passengers can surf the web via 4G LTE Wi-Fi. Smartphone integration is available as well as Alexa innovation. The in-vehicle display is touch sensitive and hosts numerous apps. This includes Spotify, audio books and settings. Navigation is also built in as well as advanced safety features.
The Chevy Trailblazer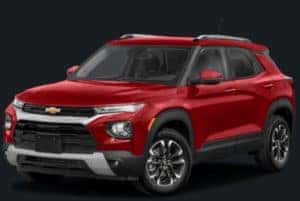 The Chevy Trailblazer is a bit smaller in size, but it hosts big features. At least five people can sit in its cabin on premium upholstery. It is estimated that this cabin will yield as much as 54.4 cubic-feet of cargo space. Seating versatility is available via 60/40 split-fold function.
Unlike its counterpart, the Trailblazer will provide a hands-free liftgate, and its front-passenger seat can fold down. Another difference is that auto consumers will only have access to two powertrains. This includes a 2.0-liter turbocharged engine that cranks out 137 horsepower and 162 pound-feet of torque. There's another turbocharged engine that will come in 1.3 liters, and it will distribute 155 horsepower and 174 pound-feet. All-wheel drive will come standard.
Another difference among the two SUVs is that auto consumers can purchase the Trailblazer with a two-tone roofline. You can expect a boat-load of advancements, including Bluetooth connectivity, Apple CarPlay, Android Auto and a touchscreen display. Alexa innovation and wireless charging are also on the menu.
More comparisons can be viewed at https://thenewswheel.com/differences-between-the-2020-chevy-blazer-and-2021-trailblazer/#:~:text=While%20the%20Blazer%20and%20the%20Trailblazer%20may%20have,a%20more%20rugged%20aesthetic%20and%20a%20compact%20frame.