Everything You Need to Know About Ford's New Electric Mustang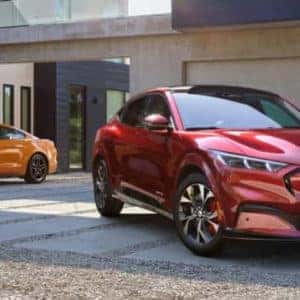 I have to admit that I never imagined there would be an electric version of the Ford Mustang.
The Ford Mustang is one of those iconic muscle vehicles that scream power. One thing I know about Mustangs is that they can burn through fuel like a hippie can burn through sage, but now there's an eco-friendly Mustang?
Customization is Possible
One thing I found pretty interesting about the new Mustang is Ford's boldness. The company is allowing people to peek behind the curtain. The company is letting folks customize their vehicle before it even hits the market.
I am so excited that I forgot to tell you the name of the vehicle is called the Ford Mustang Mach-E, and the name already sounds great. If you are a Mustang enthusiast, you'll want to go in there and see what you can do to make this sleek crossover feel more like you.
Profitability is on the Horizon
Another thing you should know about the Ford Mustang Mach-E is that the chances of Ford making a profit off this is pretty high. You're probably thinking, "why should I care about the carmaker making some cash?" I understand, but if the carmaker makes some cash, that means more of these vehicles are going to be made.
On top of that, it also means you'll own a vehicle people actually like. If you've been keeping up with electric vehicles, you know that most of them haven't looked too nice. It's usually pretty hard to picture myself driving ugly cars, but that's no longer the case.
It's a Darn Mustang
Okay, so the vehicle is going to be profitable for all sorts of reasons, and one of the reasons is because the design is impressive, but I think the biggest reason is that it's a Mustang. Ford decided to make this model a Mustang, which tells you the company has faith in this vehicle.
I've been in love with Mustangs for a long time as I'm sure others have been, so of course, we are going to get excited to see the newest design. Collectors are going to want this vehicle, and people who want to tell others they own a Mustang are going to get this car. That alone should make it easy to see why this vehicle is going to make it big.
All That Technology
Technology has always been my Achille's heel, and it seems Ford knows that because there's a lot of cool tech in the Mach-E. For one, Ford is introducing a brand new 15.5-inch vertical screen. This is a whole new type of screen you haven't seen in a vehicle before. On top of that, you still get a regular 10.2-inch information screen, but this smaller screen is going to be in front of the driver.
The vehicle is going to come with a hand-free driver-assist system, but this little system is going to be a next-generation system. What does that mean? It means the system is going to be doing what you expect from Tesla's Autopilot. Now, you won't get it right off the bat, but you will get it as soon as Ford updates it. This is supposed to happen over-the-air, so don't worry about bringing in your Mach-E to get the update.
Talking About Performance
One of my favorite things about a Mustang is the performance. If you want to feel true power, then just drive a Mustang. I was a little worried that this electric Mustang wouldn't bring that power. I was worried the only thing you'll feel is power whimpering when you drive the Mach-E.
Well, I'm here to tell you that the specs are starting to give me a lot of hope. You can expect this model to get from 0 to 60 mph in mid three seconds, and that's impressive. You've got a vehicle here with 459 horsepower along with 612 lb.-ft, which has me giddy with excitement.
With that kind of power, I would want everyone to just get off the road. Then, I can really let it rip. These are the kinds of feelings only a true Mustang could give me, and that is what the electric Mach-E is, a true mustang.