GM Vehicles releasing 12 New Electric Vehicles
GM is making some serious progress in creating some of the most exciting electric vehicles (EVs). In fact, GM is expected to release 12 EVs in the next few years from its four top brands. Here is a look at what you can expect from each of the brands.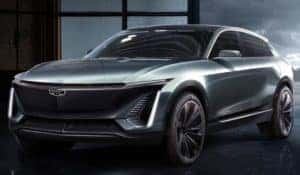 Cadillac
The big story from Cadillac is the release of its Lryiq EV SUV. This is a beautiful looking luxury SUV that is expected to be in the $75,000 price range. There are lots of high expectations for this vehicle. Also, Cadillac is expected to introduce a three-row EV SUV that will offer lots of interior space and cargo capability.
Besides going big, Cadillac is also expected to introduce a small crossover EV that will be similar in size to the current CT%. Finally, Cadillac will bring out a full-size EV SUV that will build on the DNA of the popular selling Escalade flagship SUV.
GMC
GMC is rolling out some of the most ambitious EVs that you will find from any manufacture. Let's start with the fact that GMC is bringing back the Hummer as an EV. This is not a joke. That big, gas-guzzling machine from the 1990s is coming back at a 1,000 horsepower EV SUV that is expected to have a 0 to 60 mile per hour acceleration time of just 3 seconds! I don't know about you, but I am not driving in front of an EV Hummer with 1,000 horsepower and the acceleration of a Ferrari.
In addition to the Hummer EV SUV, GMC will also be introducing a Hummer pick-up truck. yes, this Hummer truck is also expected to have a 1,000 horsepower EV system. The numbers on this truck are sure to be insane. By the way, if you own a BMW M4 or BMW M5, get ready to get blown out of the water by something with a Hummer nameplate.
Finally, GMC is expected to create an EV Hummer SUV that will be designed for off-road driving. Pretty much, you can get your EV Hummer vehicle any way that you want it from GMC.
Chevy
Chevy has been long known to offer some amazing value in their vehicles. So you can expect to find some excellent, affordable EVs from the automaker. In the next few years, Chevy will introduce an EV pick-up truck with a range of more than 400 miles on just one charge. That currently beats many other EV small sedans on the road.
Chevy is also expected to roll out a mid-size EV SUV to its line-up. Considering that Chevy already has like a gazillion mid-size SUVs in its lineup, one more mid-size SUV doesn't surprise met.
Finally, we are going to see a new Chevy Bolt crossover that will include GM's Super Cruise self-driving feature. It looks like Chevy is looking to take on Tesla with some excellent self-driving technology at a more affordable price.
Buick
Buick brings you lots of premium style at an affordable price. Therefore it will be nice to see some upscale EVs come to market. The first EV offering from Buick will be a conventional crossover that is designed to give you lots of interior passenger space and cargo room.
Also, Buick is also going to introduce a more upscale SUV EV that will have a more expressive design and give you a more athletic style.
Some Final Thoughts
Let's be honest here. Telsa has sucked up all the oxygen in the room when it comes to EV vehicle. So it's not to see other brands stepping up to the plate with its own EVs. While GM is running a few years behind, they are offering some intriguing EV models that should attract some serious attention. Will these new EV models cut into Tesla? Personally, if GM can undercut Tesla's high prices, I can see them making some serious inroads against the EV leader.