The Buick Encore is a Great Buy for Under $20K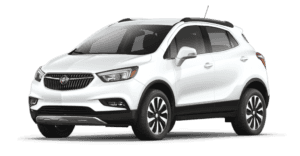 Are you in the market for an awesome, affordable vehicle? If so, consider the Buick Encore. You can buy this automobile used for around $20K depending on where you purchase it, its mileage, and various other features. No matter what, though, as long as you buy from a reliable dealer or seller, you should find much to love with this vehicle.
The Encore is Easy to Maneuver
Technically, the Buick Encore isn't really a "car." It's actually a small SUV, but, if you've never driven an SUV before, don't let that scare you away! The Buick Encore is small, compact, and easy to drive. So, even if you don't have SUV experience, you should have no problem maneuvering this vehicle.
Beautiful Interior
Everyone wants a vehicle that looks just as nice as it drives, and the Buick Encore delivers. It has a beautiful interior that was even rated as one of the best in its class in recent years. The interior is plush, lush, and very high-quality, which should allow it to stand up to even the toughest wear and tear.
Great, Longlasting Performance
In order to achieve the distinction of one of the greatest buys in its price range, this vehicle had to really stand up in terms of performance. In considering this classification, various factors were looked at, such as how well the vehicle performed on various tests when new.
Not only is this mini SUV powerful and capable when new, but it also is built to perform well for many years to come. Anyone who wants a vehicle that can last for the long-haul and that will prove an excellent investment should feel free to opt for the Buick Encore.
Quiet Performance
Smaller vehicles are sometimes poorly insulated, which often leads to a noisy ride, specially when driving on the highway. However, that's not the case with the Buick Encore.
This hip little SUV features acoustic glass and other insulating features that keep the cabin whisper-quiet, even when flying down the road at high speeds. Anyone who wants a quiet, peaceful ride will delight in this surprising SUV.
Believe it or not, these are just a few of many features that make the Buick Encore an excellent pick for budget buyers. Honestly, even those not specifically looking for a bargain would do well to check out this vehicle. After all, they'd get to spend less and get an amazing auto to boot. What could be better than that?