The Camaro Superwagon – Putting the Muscle into the Family Vehicle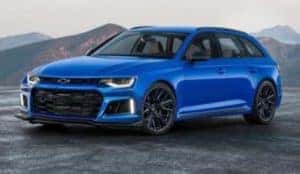 At first glance, the term "family muscle car" may seem to be a bit of a contradiction in terms. After all, family cars were initially designed to be sedate grocery haulers that provided room for adults, kids, pets, and plenty of luggage. These cars also delivered many amenities and a cushiony ride that was able to absorb everything from mountainous road bumps to Grand Canyon-like potholes. Today, drivers want something more from even cars once considered fit mostly just for families. They want and need a car like the Chevrolet Camaro Superwagon.
Station Wagon Rebound
Several non-American automakers began dropping a few of their hotter engines and taut suspension setups into their station wagons about a decade or so ago. Until those car makers did so, most people wouldn't have placed stock wagons into the performance car category. Nowadays, though, the station wagon has been enjoying something of a rebound after it fell from the heights of family car popularity into near-extinction here in America. However, Chevrolet is skilled at delivering fire and passion to the driving experience. Turning a Camaro into a family muscle car is right up the Bowtie gang's gasoline alley, so to speak.
Family Muscle Would Dominate
At least publicly, Chevrolet keeps mum about delivering a muscle car station wagon variant of the Camaro to lovers of American automobiles everywhere. However, that doesn't mean that there aren't designers and engineers out there who haven't given serious thought to what a family station wagon in Camaro trim would look and perform like. Here's why:
Family Style ZL1 Supercar
The sky's the limit when dressing up a Camaro that's one part family hauler and two parts pure, unadulterated power and excitement. Why not re-engineer the two-door Camaro road rocket and turn it into a family-hauling performance king along the lines of Camaro's world-beating ZL1 supercar?
Beast Mode Engine
For starters, the Superwagon just has to have the top-flight ZL1's 6.2 liter V8 that puts out a screaming 650 horsepower. In its standard outfit, the ZL1 is also known as the tamer of Germany's famed Nürburgring racecourse. Few cars have dominated that course like the ZL1. So why not drop the ZL1 engine and suspension setup, along with a few other bits and pieces, into a Camaro wagon? Indeed, the new creation would be an instant intimidator able to tame Detroit's streets or any urban landscape. Out in the suburbs? A ZL1-equipped Chevrolet Camaro made into a family muscle car will send moms and dads everywhere running to the nearest Chevy dealer's showroom for a peek at one.
Room and Amenities to Spare
New image rendering software and computer-aided design (CAD) techniques have also done their part to create the looks necessary for Camaro's success. Imagine a Camaro SS mated — from the nose through the A-pillars and back to the rear end — to a station wagon's appearance and a rear liftgate, and all the room such a family hauler delivers. Driving around in a Camaro Superwagon would be a fantastic way to bring the family along for the fun of conquering every freeway straightway and twisting and turning mountain road in sight. Plus, the SS's and ZL1's aerodynamics, braking abilities, and a suite of amenities and features are world-class, with something for everyone in the family, including internet connectivity galore. The family that has fun together stays together, after all.
See Your Chevy Dealer Today
Chevrolet has always been a legendary innovator in car design. A family muscle car like the Chevy Camaro Superwagon would be a natural for the Bowtie-clad lineup. See your Chevy dealer today to get in on all the fun and excitement.